Fairy Point Hotel and Restaurant
Mailing Adress: Fairy Point Hotel, Mr. Irfanullah Rahman, Raikot, Village Jhel, Tato Valley, Nothern Areas, Pakistan
Reservations: For further information please contact us at the adress or just come to the Fairy Point Hotel and allow us to welcome you with traditional Northern Pakistani hospitality. The best Time to visit is from May through October.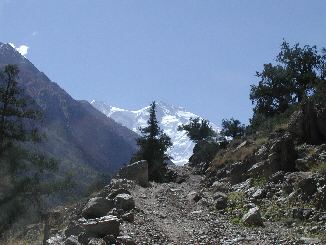 Fairy Point
Situated in the majestic splendor of the Northern
Adventure Vacations
Tato Valley, Fairy Meadows
Northern Areas, Pakistan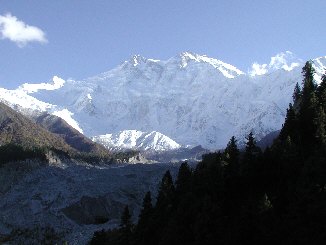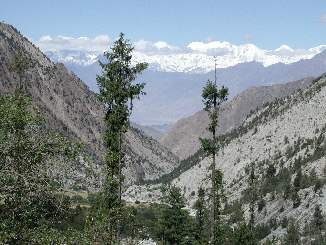 Pakistanīs Himalayas, Fairy Point ia an ideal base forexcoursions to the Nanga Parbat area. Visited by climbers and explorers for many decades, the region is renowned for the unspoiled beauty of its mountains, its pristine pine forests, and the magnificent Raikot Glacier. Only a dayīs hike away, at 8125 m Nanga Parbat is the world tenth highhest peak, and offers treks to suit ebery grade of climber.
Fairy point itself is located next to the quaint argricultural village of Jhel. Bestled amidst spectacular peaks with a river running nearby, Fairy point is a Paradise for nature lovers everywhere!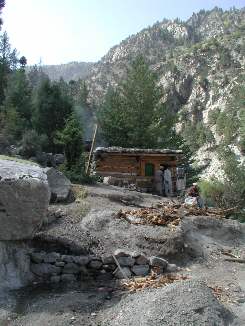 Fairy Point Hotel
With an impressive view of the Tato Valley, the Fairy Point Hotel has accommodation for vacationers and adventurers alike. Facilities include a cottage built of local materials, a restaurant and kitchen. Toilets are conveniently located nearby.
Restaurant
All meals are fresh prepared to guestīs requiremants. Both vegetarian and non-vegetarian meals are available. Local specialities include hearty dado soup as well spinach, lentils, and chicken prepared Gilgity style. Itīs possible to get breakfast, lunch and dinner.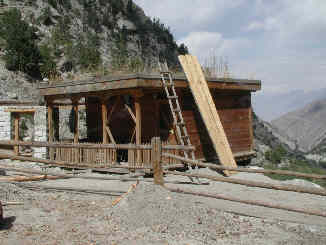 Excursions
Experienced local guides are available to assist guests with hikes to a wide variety of local attractions. Walks can be arranged to visit the village Jhel, hot springs, the Bazer ridge to view Rakaposhi and Haramosh peaks, as well as up to Fairy Meadows and the Nanga parbat base camp. Horse treks and porters can also be arranged.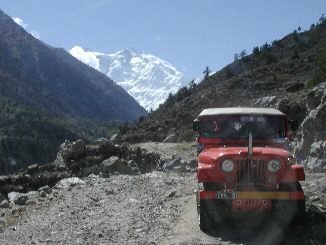 Getting There
Most trips to Fairy Point and beyond start in Gilgit. From Gilgit, frequent public busses ply the Karakorum highway (KKH) to the Raikot bridge. From the Raikot bridge jeeps can be hired to ascend the spectacular and rugged Tato valley to the village of Khel. Alternately jeeps can be hired in Gildit for private transportation.
Pakistan Internation Airlines (PIA) operates daily flights from Islamabad to Gilgit. Road travel from Isalamabad to Gilgit is also possible along the world renowned KKH taking about 14 hours.
We look forward to your visit with us!